Contact Anthony High
Website: http://www.anthonyhigh.com/
Telephone: 816-922-9282
E-mail: anthony@anthonyhigh.com
Follow me on Instagram @anthonyhighart
Statement
Artist Statement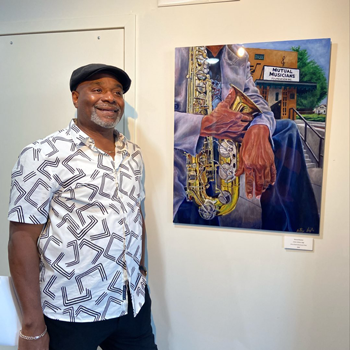 My career began about the age of five when my father tore open a brown paper bag and told me to write on it. At that age I could not really discern the difference between writing and drawing. So my reaction was to draw. It was through this artistic awakening that I realized that not only must I draw but it was part of my DNA
Much of my inspiration and subject matter comes from my African American heritage. Although I primarily paint people of color, I don't necessarily consider it "black art". I just call it ART.
I am at the best when I am incorporating my love of drawing, painting, and printmaking through an innovative printmaking process called collagraph which is uniquely mine. I believe that printmaking is one of the most underestimated and underutilized medium in art. It can be as drawing oriented as etching, as sculptural as collagrpah or as painterly as a monotype.
As an artist I pride myself in thinking out of the box, so to speak. Creating pieces that are a different twist from traditional or conventional techniques. I feel that my best artwork is yet to come.
Biography
About Anthony High
Anthony High is a Kansas City native, international artist, and educator. High received a Bachelor of Arts Degree in Arts Education from Lincoln University and a Studio Art Master's Degree from the University of Missouri Kansas City. He also teaches at the Nelson-Atkins Museum. Hi taught art education for the Kansas City Missouri School District for 29 years and is an adjunct professor at UMKC and the Metropolitan Community Colleges of Kansas City.